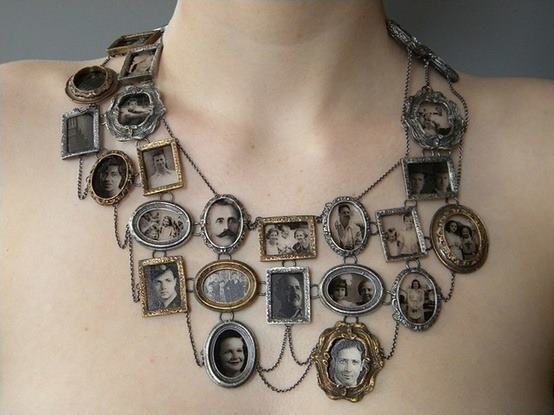 Genealogical jewellery by Ashley Gilreath

"Individuals are often remembered and represented by tangible objects. Heirlooms, antiques, inheritances; these all being words used to describe what is left behind when a person ceases to exist. I reinterpret the heirloom by fusing these objects and their personal history so others can visualize the ghosts of memory residing in our pasts. The complex moving mechanisms in my pieces enable the viewer to find delight in uncovering genealogical narrative. This interaction parallels my own research practice."
J'avancerai nue,
diaphane de silence
mon cou en catafalque
et mes poignets ceints d'argent.
Mes pieds glisseront
sur le marbre
où s'allongent vos larmes.
Mes morts ne meurent pas,
rient dans les tiroirs
de ma chair,
je les porte
comme l'on s'orne de bijoux
pour éloigner l'orage
et s'acquitter de la fièvre.
Je suis Junon
fille du père,
fille de la fille de la fille
de la fille de la fille
de sa mère.
Je suis le fruit confus
d'un latin et d'une grecque.
Mes morts ne meurent pas
je suis immortelle.